A good looking, comfortable, powerful, practical yet sophisticated seven-seater SUV doesn't exist, right? Well, it turns out it does!
The first thing I noticed as I walked towards to the new Kia Sorento PHEV was the staunch, almost American-style body work, and I liked it. Like a lot of people, I look at a car and make a judgment on it straight away, simply based on how it looks, and the Sorento did not disappoint.
The squared-off back of the vehicle and the cool twin-style rear lights immediately catch the eye. Moving around to the front of the car, you're faced with a model that works really well - the black grill, headlights and daytime running lights blend together seamlessly and will definitely make people look twice. This SUV in question was the range-topping plug-in hybrid AWD.
Getting inside the car is where it gets really exciting. You're welcomed into the cabin with a premium look and feel; the infotainment screen is a great size, while the heated and cooled seats are noticeably comfortable right away.
As you'd expect, there's an impressive array of functions extending from the center console to the dash, and a noticeable panoramic sunroof.
I liked the outside, but I loved the inside!
There is one test I have always carried out when driving a new car… where can I put my phone? Kia has nailed the issue with the Sorento PHEV. My Note 20 fitted perfectly in a cubby hole in the forward section of the center console, nicely out of the way and safe from getting flung about when going round a corner.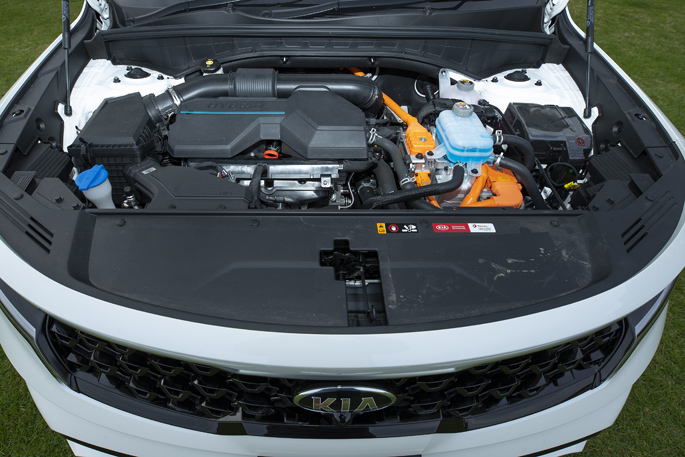 It even features wireless charging.
Connect your phone to Android Auto or Apple Car Play and an already impressive infotainment system becomes a hub for your communication, navigation and entertainment! There's even some built-in calming sounds, like rain or sounds of the beach, to choose from. A nice touch.
Once you have made yourself comfortable in the car and get on the road, the drive is nothing short of fantastic. Using electric only I was able to get the Sorento PHEV up to highway speed with no problems.
If you're a city driver, you can opt for electric-only, while the 'best of both worlds' system intelligently combines the petrol engine with the electric motor to give more power without sacrificing economy for a more conventional option on long journeys.
In fact, for the duration of my drive the car mainly used the electric motor, which is paired with a lithium-ion polymer battery.
The average fuel consumption at the end of the test drive - a mix of city, highway and country road driving - was only 0.7L/100km, which is amazing for a vehicle of this size.
When you need a little more power, the car adds in an advanced 1.6L turbo petrol motor. The extra power blends in effortlessly, and you actually need to listen carefully to even notice a change in sound.
While changing lanes you'll notice a fancy-looking part of the instrument cluster that houses a blind spot camera - all part of Kia's sophisticated safety array.
If comfort is your thing, the 14-way power front seats are suitably equipped with heating and cooling, while the back seats are heated and have plenty of legroom.
In the second row there's three USB slots, to ensure there's no fighting over who gets to charge their device!
Window shades pull up from the bottom of the window, and the really impressive part are the seats in the back row. Yep – you read that correctly – the third row!
Normally, if you're more than five-feet tall there is no way you're getting comfortable back there, that's if you can get in at all!
But in the Sorento PHEV, getting through one of the back doors is easy, and once you're in there is more leg room than an economy seat on Virgin. You even get control of your own A/C!
To round it up, driving the Kia Sorento PHEV was an awesome experience. It has a raft of technology that would impress any Star Trek fan, it ticked all the boxes, was easy to get around in, was user-friendly, safe and just an all-round nice ride.
Nice work Kia, a job well done.
All Kia Sorentos come with a five-year, 100,000km warranty, complete with roadside assist for peace of mind motoring.
A four-year, 40,000km Scheduled Service Plan is added to Hybrid models which combines with exceptional fuel economy to create economical large car motoring.
Prices for the New Kia Sorento start at $59,990+ORC for the LX AWD Diesel.
The hybrid range, which are all Premium spec models, starts at $80,990+ORC, increasing to $89,990+ORC for the range-topping Plug in Hybrid AWD Premium, as tested here.