You know how you look at a brochure for a new car; how it usually makes a car look like the most amazing car ever?
Then, you go to a dealership, and the car rarely lives up to the brochure? Somehow, Ford have managed to get this completely the opposite way around.
I was handed the brochure to Ford's all new Endura SUV. It looked nice, it was clearly from the Ford stable and the specs looked like it was going to be a nice drive.
In this instance, the brochure was the lottery ticket, and the car was the jackpot. To coin the youth of today – OMG. Ford, seriously, get the crayons out and get a new brochure, this car looks fantastic and your literature does it no justice!
The Ford Endura is packed to the rafters with appeal – aggressive from front to back, yet sporty and stylish all mixed into one. I think this has to be the best looking SUV that Ford has ever created.
Our metallic blue test model was simply stunning, offset with 20-inch platinum grey wheels, making it was clear this vehicle was a fitting member of Ford's ST club.
There were many other surprises too. For instance, I wasn't expecting it to be so big. It's a fair lump of a vehicle, but not so ridiculous that it didn't fit in a normal car parking space correctly.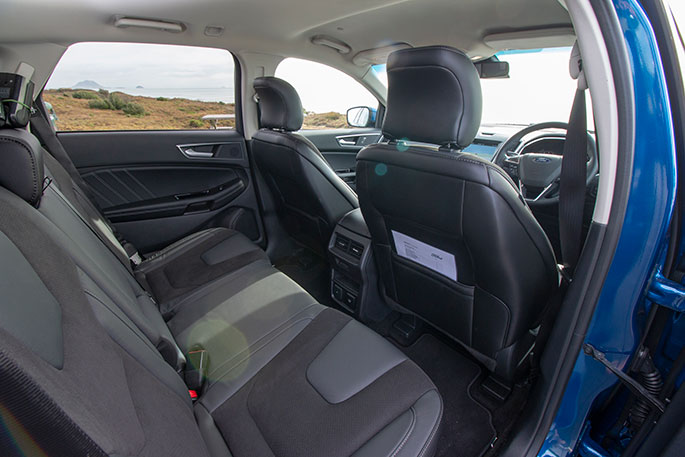 The spaciousness inside was also astounding. Even though the cockpit design has that wrap-around styling to it, you feel like there's endless room. Even with the driver's seat cranked back, you could have probably still fitted almost any All Black in the back seats.
The Endura stands alone in its line-up – there is only one model and that is the ST-Line.
To quote a line from the brochure – the Endura "features an enhanced design with distinctive alloys, body-styling kit and unique badging". Unique badging? How about "features buckets of awesome".
The Endura features a 2L bi-turbo Duratorq diesel engine. That didn't sound that big for a car of its size, but it seems great things come in small packages! The engine produces 154kW and 450Nm of torque. That's big numbers from a small engine, and it feels like it too.
This SUV can shift – the power is incredible. It's mated with a six-speed automatic transmission which is smoother than glass. It also has an 'Active Grill Shutter', limiting airflow when it's not needed to increase the aerodynamics of the vehicle.
Out on the road, the Endura is happy no matter where it's heading. In town or highway, the Endura is comfortable, quiet and a real pleasure to drive. The powerful engine is a real bonus when a quick entry to a roundabout is needed, and the handling is confident and steady.
It's also an attention seeker, and finder. The amount of eyes redirecting to take a look at the Endura was quite noticeable. It's a standout; very different from the 'run of the mill' that the SUV segment is fast filling up with.
The interior is spacious, comfortable and looks great. From the sports seats to the leather-bound steering wheel, it feels like Ford has given the guts of this car some serious attention.
There's toys aplenty, with Bluetooth connection, sat nav, Apple Carplay and Android Auto all at your fingertips in the eight-inch centre touch screen. The in-car smarts also include Ford's SYNC3 Advanced hands-free technology. You can issue a simple voice command such as 'I'm hungry', and the Endura will show you a list of local places to eat.
The list of standard features is extensive, taking up a whole page. I actually have no idea if there's any optional extras, as it seems everything is already included.
There's some great safety features, such as adaptive cruise control, which slows the vehicle down if it senses a vehicle in front. There's also lane guidance technology, which can sense the lines at the sides of the lane and warn you when you're getting off track.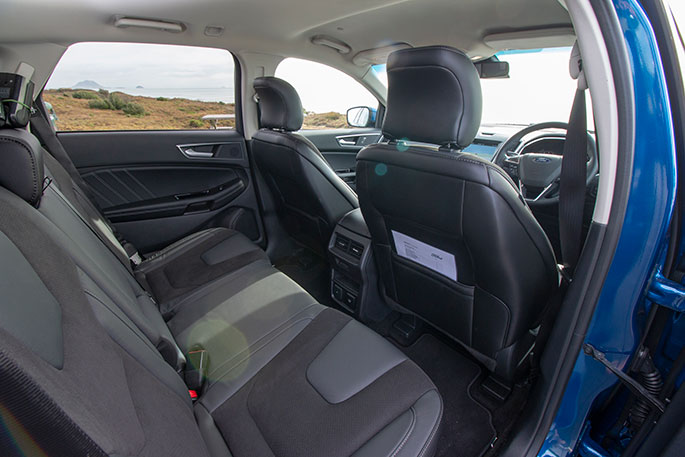 For what is a sizeable vehicle with a real pack of power under the hood, it's incredible that the Endura is able to motor along using only 5.9L/100km. That is literally small car territory, with some small cars not even matching that.
Overall, Ford's new sporty SUV is a winner. It comes to something when the worst thing about a car is its brochure. In the car world, that's really something.
The Endura comes with a starting price of $73,990 + ORC. Unless you want a towbar, I can't see you racking up costs on extras due to how much is already standard.
Do yourself a favour – visit Ultimate Motor Group Ford on Hewletts Road and instead of taking home the brochure, take home the car. Believe me, it's much better!
Specs
Model: Endura ST-Line
Engine: 2L Duratorq Bi-Turbo Diesel
Transmission: 6-speed auto
Price: From $73,990