The Hilux has managed to etch itself into folklore here in the land of the long white cloud. It's as Kiwi as kiwifruit.
And it's not just us who love them – the Aussies do too. It is the pinnacle in hard working utes for farmers and tradies and quite often the vehicle of choice.
The credentials of the Toyota Hilux 4X4 are well documented – legendary even – but not everyone needs the extra weight and expense of the ultimate off-roader and there are more than 20 variations of this most popular of utes.
So, hang onto your steak 'n cheese, we're leaving the 4WD in the yard and taking the 2WD version of this Kiwi icon out on a road trip.
The advantage of the 2WD, of course, is that it's quite a bit cheaper and it is also lighter by about by 160kg. The engine and suspension are the same – better in fact because of the lower weight.
Both of these things are a big drawcard if you don't need a 4WD because what you do get is everything else – towing capacity, power and torque, safety and reliability.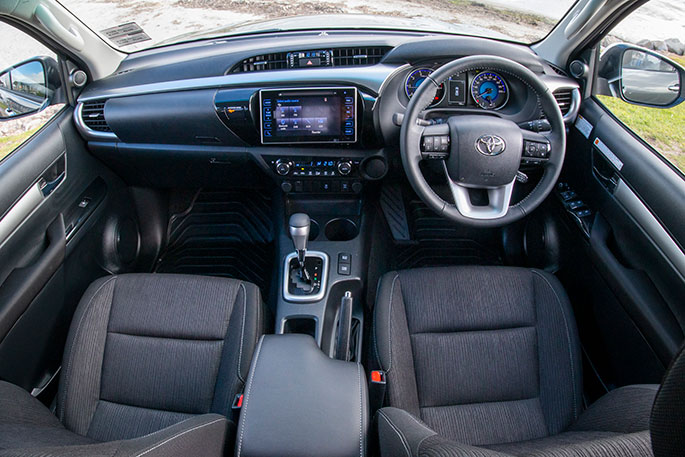 And with the power, big size, high wheel base and rugged build (including the tough plates on the undercarriage) you still get to more places far easier than most vehicles.
Climbing up into the cab you know you are experiencing the home comforts of the Hilux. Everything is solid, robust and reliable, as you would expect from a ute that has become entrenched in Kiwi culture. Load it up, pile in and get going.
I took this vehicle through the city at a leisurely pace, gazing down on all the little cars from a lofty position, up Pyes Pa Rd and into Tect Park.
The idea is to get a bit of variety for this most versatile of trucks and to see how it handles a gravel road.
It's not a 4WD, but it is a real pleasure to drive and we are not going to wipe out on a little bit of gravel. We are also not going to bottom out in deep ruts or flood the cab should we head off into a river. It has the same 70cm of ground clearance as the 4WD.
There is plenty of power and stability, plus a few handy safety extras like active lane assist and active cruise control. The rear wheel drive gobbles up the gravel with ease.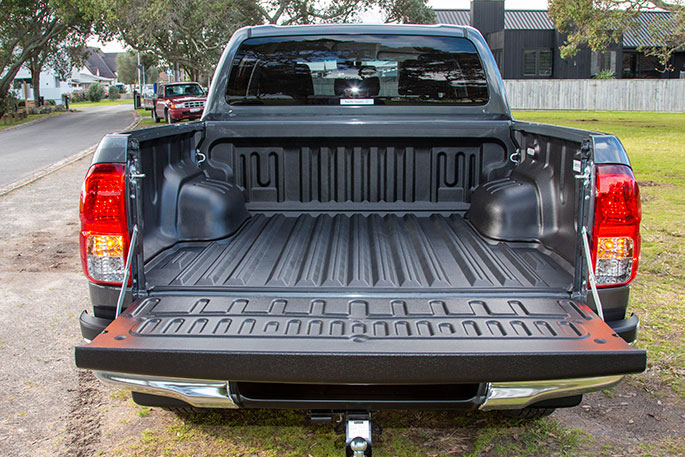 Dual purpose trucks like this are obviously expected to perform more than one role and the 2WD fills this role - whether it is towing the boat, hauling timber down to the building site or as a commuter vehicle for the whole family.
So, it's built like a fortress but rides like something a whole lot more sophisticated. At just under 1900kg it is big enough to handle the demands but light enough to get maximum use of the powerful 2.8 litre turbo diesel. It has a maximum torque of 450Nm.
The suspension is set up to cope with big loads but still manages a smooth ride on a rough road without the load to hold it down. Toyota has been doing this for a while and seems to have the balance just right.
That's important for a multi-use vehicle like this because it is not just a work ute – it's got a social life too and comfort is important.
The new 2.8 litre, four cylinder turbo diesel has been redeveloped from the ground up to provide power and torque while still maintaining its reputation for reliability.
These engines really hold their torque and the extra power is a big advantage around town, when pulling away from the lights and on the steeper hills, especially with a big load like a horse float or a boat (up to 3500kg).
Inside, there are a few treats for the driver like the all-important touch screen – a nice big 7" (18cm) screen. You can hook your smartphone up using the Bluetooth and either use the touchscreen to change songs or the controls on the steering wheel. It also comes with satellite navigation. In reverse the generous screen becomes the rear camera display.
Safety-wise the Hilux carries a 5-Star Ancap rating and it includes some serious technology in the brakes including smart technology like brake assist which senses when you should have braked harder in an emergency and does it for you. Hill start assist, traction control and trailer sway control are some of the other useful stability features.
In addition to that you have active lane assist to keep you on track and active cruise control that keeps your speed steady and your following distance as well.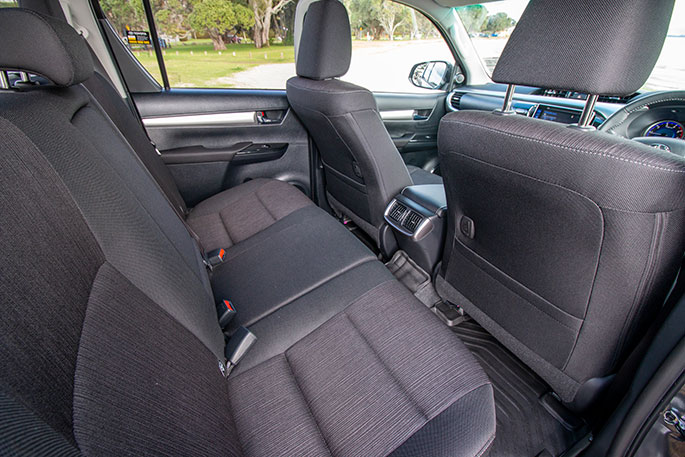 You are living the high life in a Hilux and I can see why they are popular as a suburban vehicle. Sitting up high at the helm of the Hilux gives you a good vantage point on the surrounding traffic. You are above it all and have good visibility at intersections and roundabouts.
And last, but not least, there is the fuel efficiency. The Hilux chews up the k's with barely a murmur, achieving an average fuel consumption of 7.9 litres per 100km (6.6 litres on the open road and 10.3 around town). That is pretty impressive for a vehicle of this size.
To try out something in the Hilux range, head down to see the team at Pacific Toyota on the corner of Elizabeth St and Cameron Rd.
Spec's
Model: Toyota Hilux SR5
Engine: 2.8 litre turbo diesel
Transmission: 6-speed automatic
Power: 130Kw
Torque: 450Nm @1600-2400rpm
Price: