The new Mazda 2 is a little car looking to make a big impression.
Personally, I have had a few relationships with little Mazdas, including a memorable trip in a 323 right through the heart of New Zealand's largest high country station.
That little, red company car could chew up the endless gravel roads with ease. A few years later a white one came into my life and it put up with me for years in all manner of conditions.
So, I was pretty excited to meet Mazda's newest, smallest car – the spruced up, made over Mazda 2. In this instance it was the Limited variant I took for a drive.
Mazda is taking things to a new level of sophistication. Rather than focus on the saturated super-mini car market, it is giving discerning buyers a lot more bang for their buck and moving up the market.
This wee car is packed full of things you would expect to find in a luxury vehicle, wrapped up in a pretty package and powered by a super-efficient 1.5l engine.
The 2019 Mazda 2 has a few style differences from earlier models, most notably in the front grille, headlights and bumpers. It is also a lot quieter thanks to some extra insulation.
Inside, it feels sporty and the gorgeous leather and suede seats and interior finishes provide that luxury experience. The sporty look is enhanced by the somewhat retro', spoked air con- outlets. A big rev counter dominates the centre of the dash.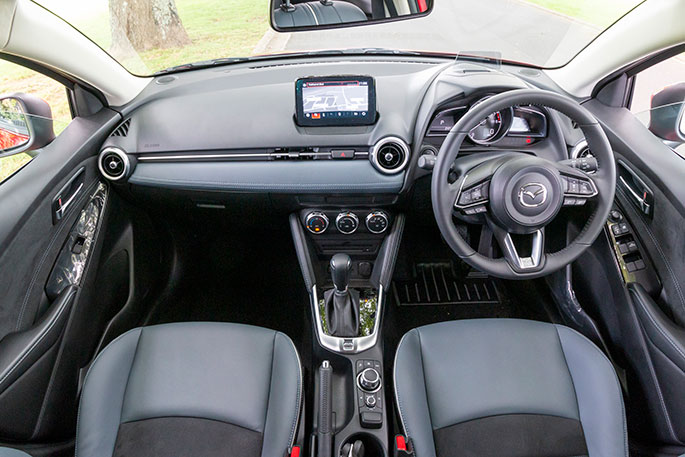 There is a centrally located touchscreen plus an additional, transparent head-up display that sits above the dash to provide key information like speed and safety alerts close to the driver's line of sight, ensuring minimal re-focusing. The eyes never really have to leave the road.
Everything has been designed to be easy to use and to minimise distractions. There is also a control knob in the central console to give the driver another option for the information and entertainment functions. It has Apple Car Play and Android Auto so you can plug your life straight in.
The power plant for this small hatchback is a 1.5l petrol engine that features all of Mazda's latest engine enhancements. It certainly gets you off the mark at a fair clip because this is a very light and very smart car.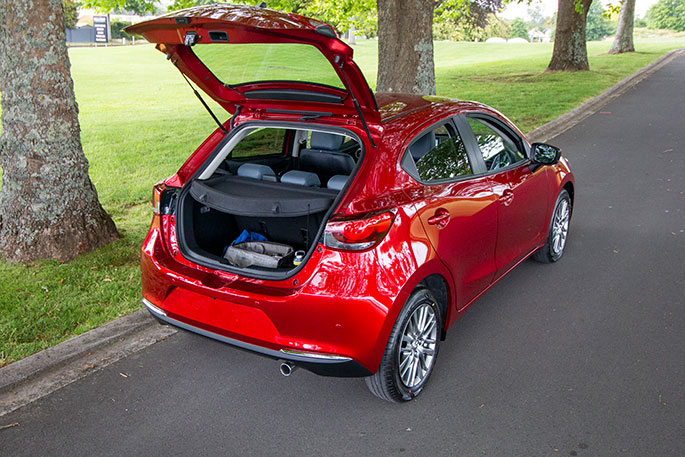 To ensure the new Mazda 2 can foot it at the top end of the market there is an array of new technology enhancements (Mazda calls these i-Activsense technology). New technology includes lane keep assist to keep you between the white lines, radar cruise control (to maintain following distances while on cruise control) and traffic sign recognition.
The improved braking system has a few extra smart features to reduce the chances of serious accidents and to greatly lessen the consequences of braking too late. Essentially this car will brake automatically when a crash is imminent and the driver reacts too late.
The sign recognition is brilliant as many of our roads contain constantly varying speed limits so it's pretty easy to lose track of what speed zone you are in.
Other improvements include adaptive LED headlamps which automatically adjust for incoming traffic and which offer a lot of extra illumination.
Mazda is constantly improving every part of its vehicles – from the chassis to the engine and through what it calls its SKYACTIV technology. The 2019 Mazda 2 has all the latest iterations of the SKYACTIV technology, including improvements to the suspension. Even the seats have been tweaked to improve the driver's connection to the car.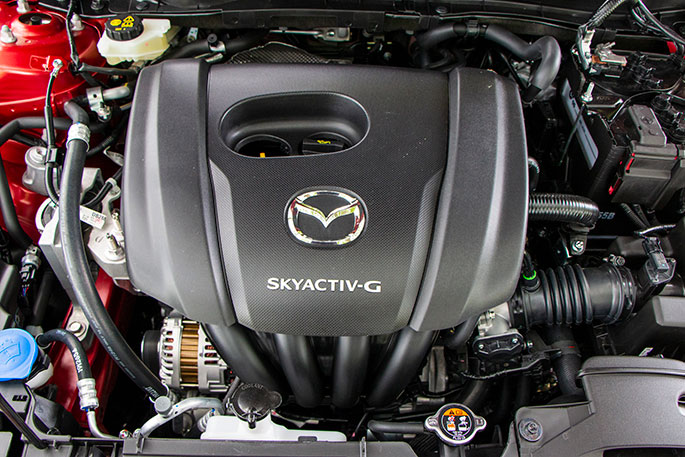 To keep things simple Mazda is offering just two variants – the GSX auto and the Limited auto. For those who like to be different, there are 10 colours to choose from. Our test vehicle was a beautiful 'soul red crystal metallic'.
So with the introductions out of the way, the Mazda 2 and I head out of the car yard and onto Hewletts Rd to get properly acquainted.
Obviously the Mazda 2 is a world apart from its older predecessors and in a good way. Being a hatch, it still has all the advantages of flexible luggage space and access but its small size makes it nimble, great on the handling and easy to manoeuvre and park up in town.
As I head up into the Kaimai Range, the improved chassis and g-vectoring control come into their own. G-vectoring is another Mazda innovation which essentially involves a slight deceleration into the corners. Having more weight on the front wheels, into the corners, means better traction and better control. It's subtle but clever and it makes a difference to the handling.
This is a car you can enjoy driving while appreciating all the other comforts and technologies. It is worth taking a look at if you are searching for a small, classy car without the huge price tag.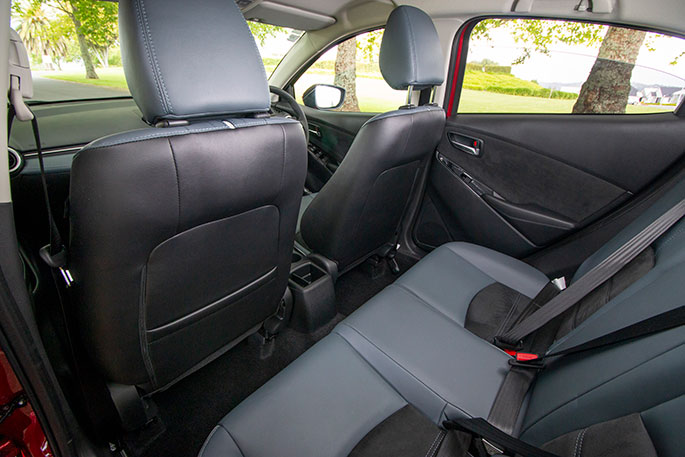 Spec's
Model: Mazda 2 Limited
Engine: 1.5-litre petrol
Transmission: Six speed automatic
Power: 81kw (108hp)
Torque: 141Nm @ 4000rpm